Do you want your presentations to look more professional? Don't know where to get
new templates? Don't worry! If you are a designer, and you want to know how to obtain new
free PowerPoint templates, for your own presentations, or to improve the work of
a customer, then you can't miss this information.
What is a Template?
How very well you know, templates for designers are very important, since it is the
base of all the content that you want to display. Certainly the templates that come in
PowerPoint by default, they limit us a lot when working in different fields, for
For example, many do not find a suitable template for a company, presentation, or
business.
There is no doubt that default PowerPoint templates can get us out of trouble, Already
whether it is a job for the university or a commission from one of our clients, since it is not
spends so much time designing a new one from scratch, so if we go to the
Practical, it can be a good solution.
Also from PowerPoint, you can get more templates totally free, and that varies
a bit of the standard templates that are shown to us in the taskbar, if you don't know where
get it we leave you the following image: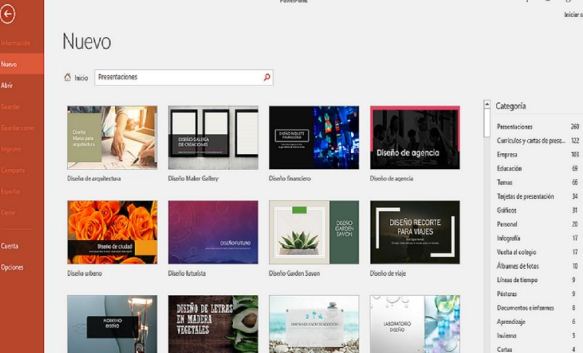 How to Get New Free Templates?
Although we have a good amount of templates within PowerPoint, most usually
be somewhat bland, and with limited creativity, which are more oriented to the standard of
companies, school presentations, etc.
Therefore, an excellent idea to stand out from the rest is to get new templates, which are totally personalized, and which can be adapted to each new situation. For this reason, we have gathered all the Free Power Point Templates for Designers, so you will save a lot of time searching on sites that are not safe, and you will be able to have the best templates in a few seconds.
Just by telling you, you will have thousands of different templates not only for your presentations or
client works, also if you work with memes or creating images for networks
social will come in handy.
Are All Templates Compatible with Any Version of PowerPoint?
Many wonder if the templates that we have provided are suitable for any version
of PowerPoint. And the answer is that the most recent versions will not have any problem
in using and working with them, as is the case of those of 2013, 2016 and 2019.
However, older versions such as those from 2010 and 2007 are not compatible with the
templates.
Within the templates, you will also find different versions of each one, you can
change the colors, fonts, effects of the slides, and many more possibilities. Also,
you have the opportunity to customize the template to your liking, whether you want to add
new elements, or remove some of the base template.
What are you waiting for? It's time for you to discover hundreds and hundreds of new free templates,
so that you can renew your presentations, you can adapt to the tastes of any
client, especially taking advantage of time, to get jobs done faster. Great? Not?
Until next time!

Commentary
Comments